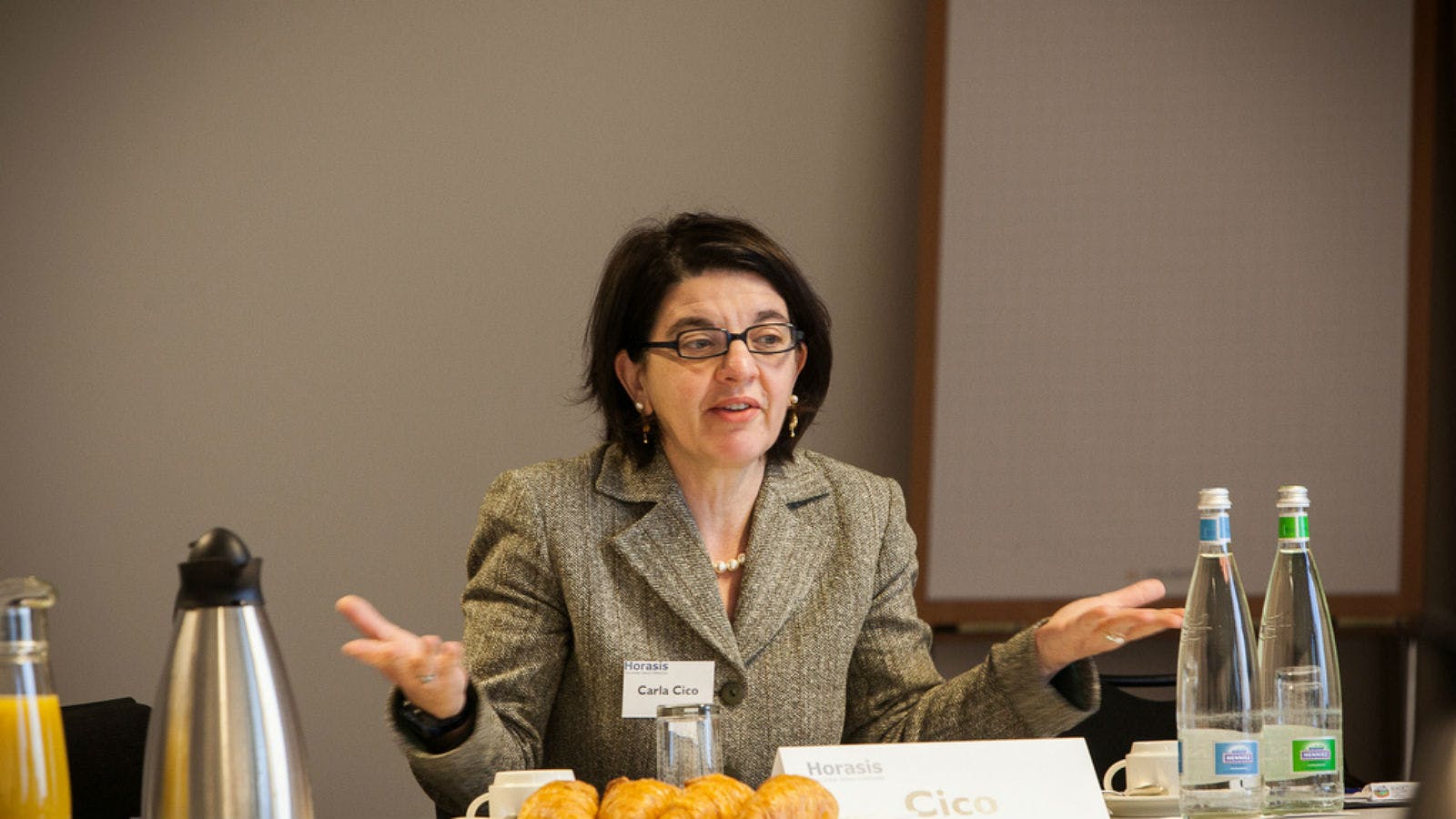 ---
15 minutes with... Carla Cico, Forbes' 32nd most powerful woman
In Nurole's latest "15 minutes with...", Carla Cico, Chair of Italian HgCapital investment Mobyt, shares her insights on what it takes to be a great non-executive director, her best life hacks and how history will look back on the next twenty years.
When private equity investor HgCapital approached Nurole for help finding a non-executive chair for the board of their Italian investment Mobyt, a provider of application-to-person SMS services to enterprises, they recognised it was a challenging search that would require someone exceptional. HgCapital's investment team were astounded by the quality of candidates who applied through Nurole's platform but it was Carla Cico, the former CEO of Brasil Telecom ranked by Forbes as the 32nd most powerful woman in the world, who stood out and was appointed non-executive chair. In Nurole's latest "15 minutes with...", Carla shares her insights on what it takes to be a great non-executive director, her best life hacks and how history will look back on the next twenty years.
Best Advice
What is the best professional advice anyone gave you?
My first and only mentor once told me that when you have many problems on the table, focus on identifying and addressing the key one. The rest will then take care of themselves.
Do you have advice for anyone looking for their first NED role?
Be ready to work hard. Don't expect the same recognition you would get as an executive. Nevertheless, it's a very fulfilling opportunity - you can use all your experience and share it with others which is very rewarding.
Do you have advice for anyone preparing for their first NED interview?
Think hard about what and how you can contribute to the role. Every board position is different. You have to study the role specification and the industry carefully. Preparation is key. Really figure out if your experience matches. Think about the board composition and the time you are willing to devote - being on board is a huge responsibility and demand on your time. If you want to perform well, you have to work hard on the preparation prior to the board, at the board and on the follow up.
What advice can you give to those who have been rejected for roles?
I have been turned down for roles - it's nothing to be ashamed about. Serving on a board is a lot about the chemistry. Your mind-set has to change from what it is as an executive - non-executive roles are not all about your experience, most of the time you are not selected not because you don't have the experience but because there was not empathy or chemistry with the chair or the rest of the board and / or because your experience and background did not match what the board required.
What do you think is the key to being a good NED?
The key is to be very devoted. You have to know when not to cross the line between being non-executive and executive. You must be straightforward, contribute and be well prepared.
What do you need to work on to become a better NED and what are you doing about it?
Being a non-executive director is always a learning process. I try to read lots, staying on top of corporate governance, taxation, technology, digital transformation and other board experiences.
What advice would you give to anyone thinking about whether they should take on a non-executive role?
Expectations are so high for board members today that you have to be prepared to work hard at it. If you are looking for a gentle retirement, there are better alternatives!
What is your most effective method for assessing prospective new hires?
It varies depending on whether I'm looking at non-executives or executives but personality is key. By the time someone is up for a board or c-level executive position they typically have the capability so it's a lot about emotional judgement and gut feel.
When have you got it most wrong professionally and what did you learn?
I have a strong sense of duty and responsibility to people. As a result I have postponed leaving a position when it would have been better for me to do so earlier. I have now learned to follow my instinct more. I realised there is a limit to which you have a responsibility: I realised you are never that critical to individuals and they will survive without you.
When history looks back on the next 20 years, what do you predict will define the period?
We are going through tremendous changes which technology has catalysed but the individual continues to be critical. There is lots to be cherished in what we do today and I'm not sure that the revolution will be as dramatic as everybody expects - in short, it will still be human beings and their relationships which will define the world. When the telephone was discovered, everybody thought everything would change - of course it did, but not perhaps as much as people anticipated.
Your Nurole Experience
How did you hear about Nurole?
Introduced by a friend who recommended me for a role.
What made you sign up?
My friend's recommendation.
How have you found the experience as a member?
Have introduced other people to the platform. Very diverse range of roles. Very good for experienced board members. Very good place for people to start who are looking for their first board - lots of charities and other commercial boards where they don't need specific experience. 
What advice would you have for other members applying through the platform?
Remember the online application is like a first interview - it's not just about putting on your CV. You have to think carefully and set aside some time to apply carefully. It's worth investing 1hr to apply.
How would you explain what Nurole does in one sentence to someone who doesn't know it?
It's a digital headhunter platform.
About You - 10 Question Quick Fire
3 words the person who has worked most with you would use to characterise you?
Focused (very focused!), tough, balanced. 
Favourite book?
When I was a kid, it was "Little Women". At high school, it was "i Promessi sposi". As an adult it's "Life and death in Shanghai".
Favourite restaurant?
I'm not really into food so don't have one but if someone asks me what I like to eat, generally speaking I go for very simple things like a pizza!
Favourite quote?
"Action is better than perfection" 
Greatest passion?
Work!
Best life hack?
Running and knitting.
Professional achievement of which you are most proud?
The fact that after 30 years I have people who were working with me 20 years ago who still come to me for advice and still write to me.
Role model / mentor?
I have only ever had one mentor - Mr Macchirini who was my first boss and has always been THE boss!
When does your alarm go off and how many hours of sleep do you have on average?
My alarm goes off at 5am and I typically sleep 7 hours.
Best idea for a £10,000 investment?
Sponsor someone with potential and track record to do something they would like to do. For example, I like to support people involved in less famous sports who can't otherwise access the funding.