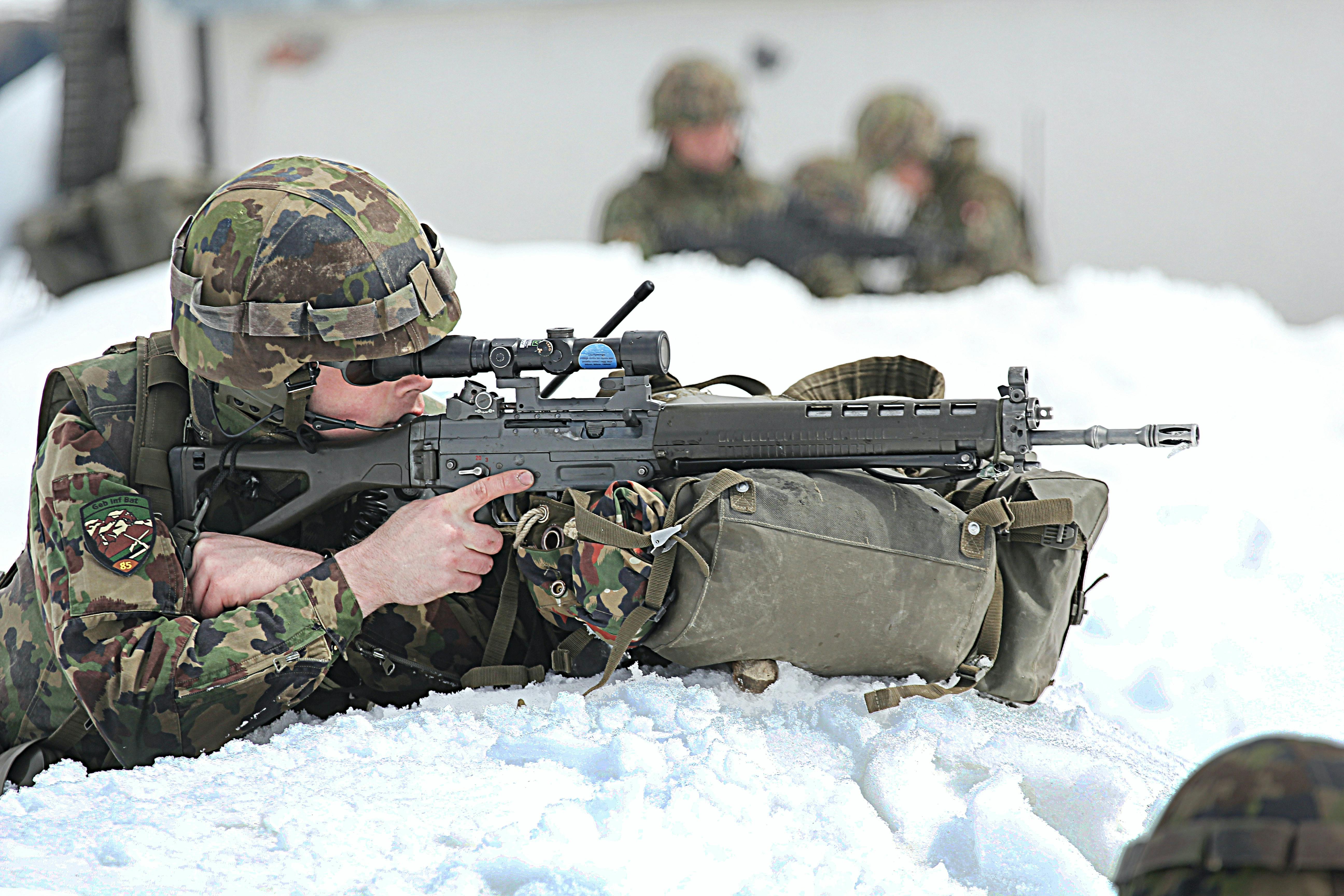 ---
The race for Arctic dominance is accelerating, with the region poised to become the next military hotspot. What are the implications? How to invest.
The Arctic's resources, efficient shipping routes, and unique geographic location as a defense hub will ultimately be controlled by the nation with the most comprehensive Arctic footprint across commercial and military domains. A race for Arctic control is on.
An Arctic defense investment boom is at hand. Key beneficiaries include Nordic and European defense companies that make specialized equipment for the harsh northern environment, as well as the13D Defense Index(see componentshere).The 13D Defense Index, comprised of leading defense contractors, has returned 177.5% since its inception in August 2016, versus 104.1% for the S&P 500 Index.
Russia has continued to solidify its presence in the Arctic across military and commercial applications, achieving its current unrivaled Arctic dominance.Conversely, the other seven full-nation members of the Arctic Council have fallen behind in Arctic investment. As a result, other Arctic states are now playing "catch-up" to match Russia's Arctic advances.This week, we are initiating a new series focusing on the economic and military implications of rapidly-melting Arctic-sea ice, with ramifications not only for defense, but also for energy, mining, shipping, insurance, and agriculture.
The economic stakes of Arctic control are gargantuan.The Arctic Circle isestimatedto contain over 160 billion barrels of oil (13% of the world's untapped oil), up to 30% of the globe's drillable natural gas, and an estimated $1 trillion in metals and minerals ranging from gold and silver to beryllium, cadmium, and lithium. As stated by Rebekah Koffler, an intelligence analyst and author ofPutin's Playbook: Russia's Secret Plan to Defeat America,"The Arctic is going to be the future battlefield for economic dominance and possession of natural resources."
Control of Arctic shipping routes has economic, strategic, and supply-chain implications. Between 2013 and 2019, Arctic shipping volume increased by 25%. There are two main Arctic shipping lanes: the Northwest Passage (NWP), which follows the Alaskan and Canadian coastline; and the Northern Sea Route (NSR) which hugs the Russian Arctic coastline. China estimates that by using the NSR, shipping times will be cut in half—shaving off up to 20 days—to reach China from Russia's Baltic ports, versus the conventional route through the Suez Canal. Arctic shipping routes could provide Russian oil and LNG with new ways to reach Asia, circumnavigating ports and the possibility of western sanctions.
The holy grail of Arctic shipping routes lies in a novel third route named the Transpolar Sea Route (TSR). The TSR cuts directly over the North Pole, offering the shortest route between the strait of Bering and Europe. The 2,000-mile TSR was first crossed in 2012 and currently requires high-level icebreaking ships. The Arctic is warming four times faster than the rest of the planet, which has caused the North Pole to lose approximately 40% of its ice since the 1980s. By 2035, researchers estimate that Arctic summer sea ice could disappear. As Arctic sea ice declines, especially in summer months, the TSR is positioned to play an increasing role in Arctic shipping.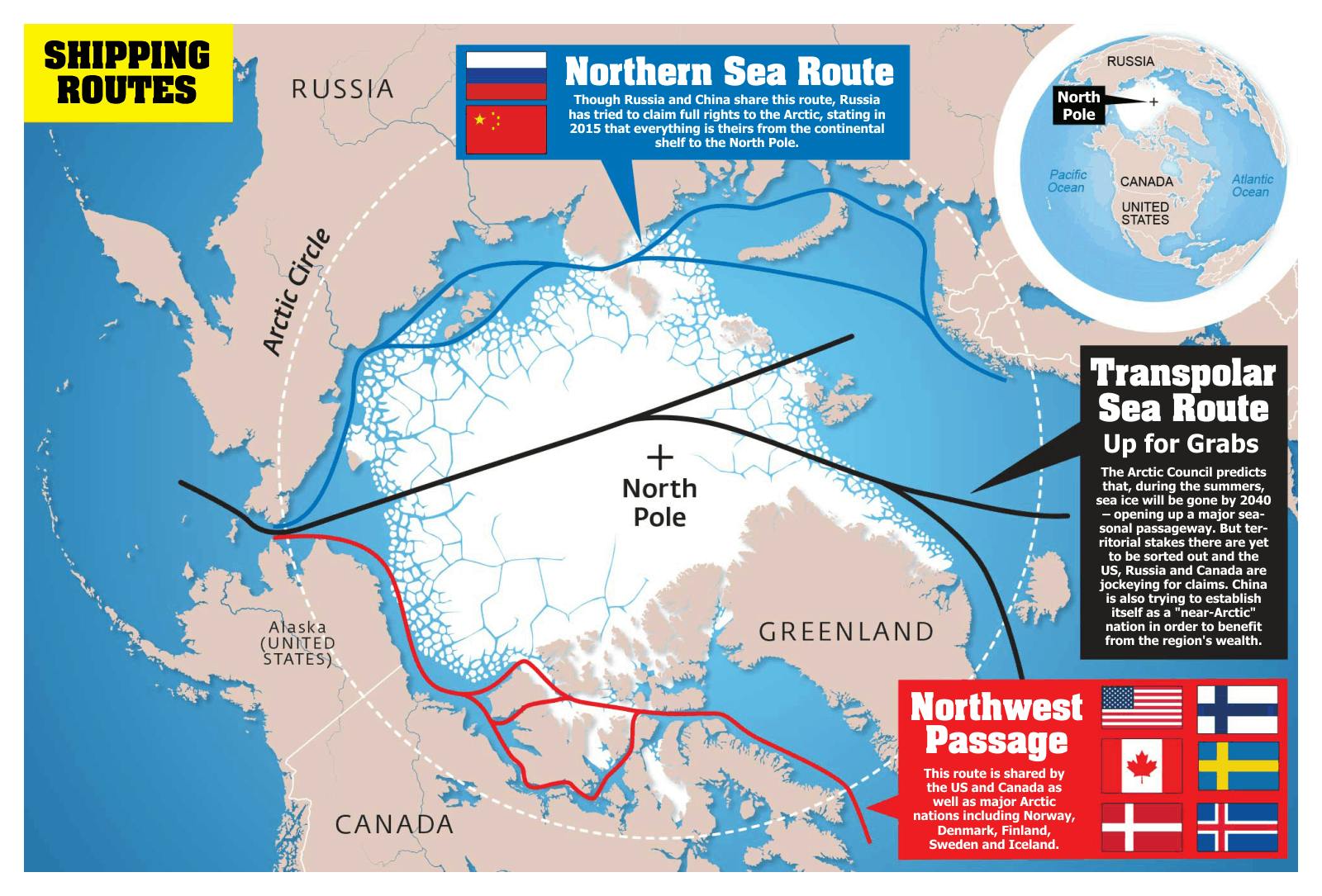 Source: Scandasia
As climate change melts sea ice and Arctic shipping routes become passable for longer periods, control of these routes will become a geopolitical quandary and a potential conflict point. 
Tensions have been rising in the Arctic region. Following the Ukraine invasion, Norway curbed access to its ports for Russian vessels. In May 2022, Russia declared a militarization of its fishing fleet and maritime vessels, and Norway moved to heighten alertness at military installations and key energy-infrastructure installations, much of which sits in the Arctic and sub-Arctic. In July, President Vladimir Putin launched a new national-security naval strategy pledging to protect Arctic waters "by all means."  
Russia views the Arctic as critically important to its sovereignty. The Russian coastline accounts for 53% of the global Arctic Ocean coastline. The Arctic is home to over 2.4 million Russians, representing more than half of the global Arctic population. The region generates 10% of Russia's national  GDP and 20% of its exports. 
However, 60% of Russia's civilian and energy infrastructure in the Arctic sits on unstable thawing permafrost due to climate change, notes Politico. Consequently, Russia is looking for new ways to reshape and fortify its Arctic footprint. 
Andreas Osthagen, a senior research fellow at the Fridtjof Nansen Institute in Oslo, believes that the Kremlin's challenges in Ukraine are also driving Russia to look for dominance and control in the Arctic. As a result, Russia is continuing to invest in infrastructure, navigation capabilities, and defense installations across the region. 
While other nations have only recently begun to value the strategic and economic importance of the Arctic region, Russia has prioritized it for decades (see prior WILTW reports). Now, Russia's lead across all domains in the Arctic is viewed as a direct threat to the seven other members of the Arctic Council: the U.S., Canada, Denmark, Finland, Iceland, Norway, and Sweden. Consequently, NATO and the West are increasing investment in military and commercial infrastructure in the Arctic region to match Russia's current Arctic capabilities. 
Consider the following: 
Russia has superior Arctic deep-water ports and icebreakers. Moscow operates several deep-water ports in the Arctic, including in Murmansk and Provideniya. These ports are essential for housing icebreakers and warships with deep drafts, and provide a staging area for large vessels close to the Northern Sea Route. 
Russia has the world's largest and most-advanced fleet of icebreakers, totaling approximately 40, including seven currently-active nuclear-powered icebreakers. Russia's Arktika represents the most-powerful icebreaking class in the world, capable of plowing through nine feet of level sea ice at a continuous 2-knot speed. Moscow is aiming to have at least 13 heavy icebreakers on the NSR by 2030.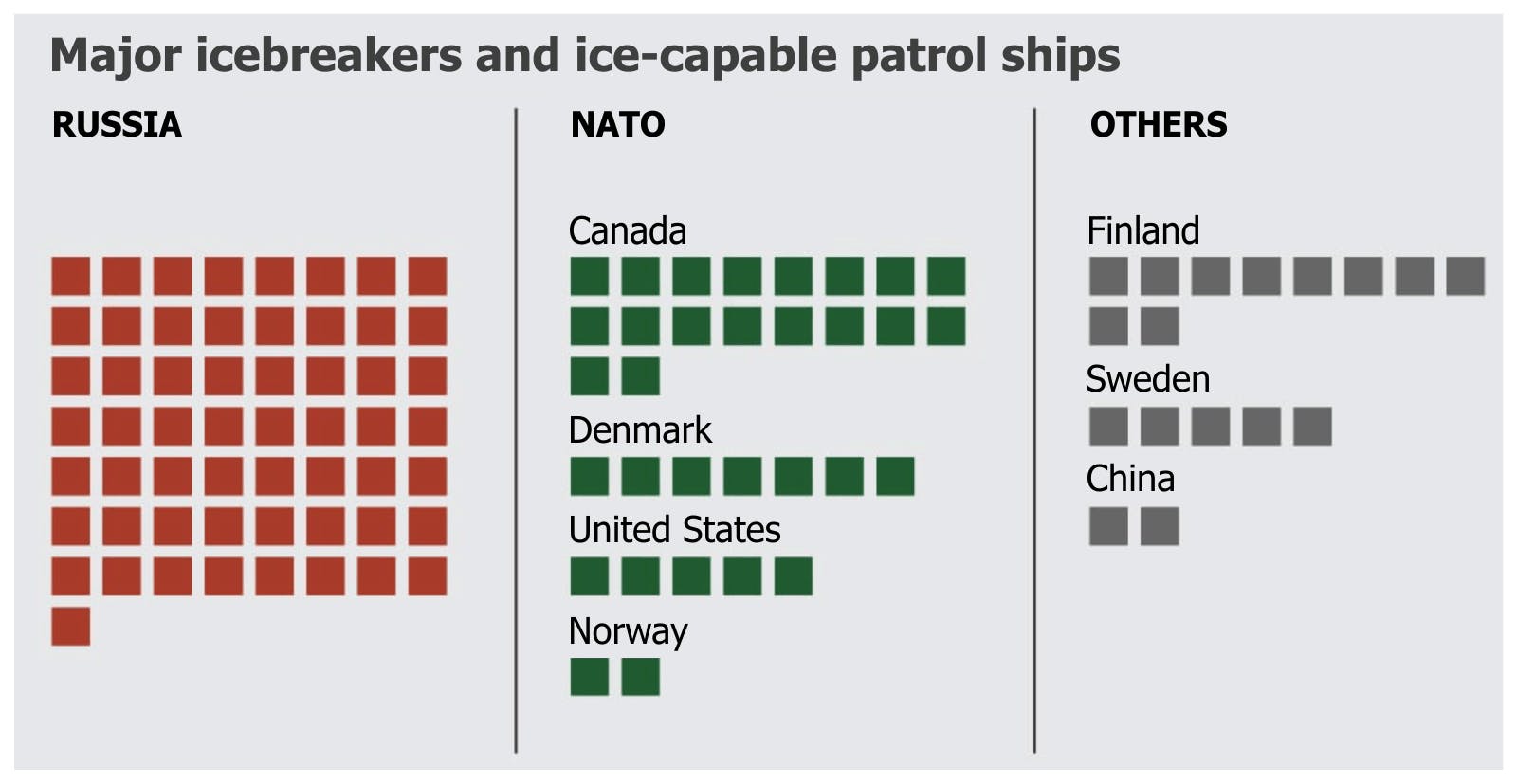 Source: Reuters
Russia is unmatched across multiple Arctic military domains. Russia's military bases inside the Arctic Circle outnumber NATO's by about a third, according to the International Institute for Strategic Studies (IISS). Over the past decade, Moscow has reopened and modernized over 50 Cold War-era bases and airfields along its 15,000 miles of Arctic coastline. 
In recent months, Russia has deployed new weapon systems that leverage the Arctic environment and geo-position, including new "super stealthy" submarines that can deploy underwater drones and hypersonic missiles. Russia has also unveiled a nuclear-armed stealth torpedo, dubbed Poseidon, designed to evade coastal defenses by traveling along the seafloor. Russian media says Poseidon could cause a huge tsunami and turn a coastline into a "radioactive desert."
Moscow now has 11 submarines capable of launching long-range nuclear weapons, eight of them based in the Arctic, per the IISS. 
Russia has also developed specialized drones for the Arctic. The unmanned aircraft can remain aloft for four days in the harsh environment, and navigate using an alternative system to GPS satellites, called GIRSAM, which was developed specifically for drones and challenging Arctic conditions. 
Chinese interest in the Arctic is also rising. In 2018, China's State Council Information Office released a whitepaper detailing the country's official Arctic policy, outlining scientific, commercial, environmental preservation, and resource extraction efforts, all aligned with the Belt and Road Initiative. 
China is working with Russia in a range of areas, from building multi-use ports and airfields, to energy extraction. The partnership also includes scientific research and sharing of intelligence, surveillance, and reconnaissance data. 
China has pledged to build a "polar silk road" between 2021-2025 and establish Arctic shipping routes, offshore Arctic fossil-fuel production, and mineral mining and is also planning to launch a satellite to monitor Arctic shipping. 
The U.S. and NATO's efforts to catch up to Russia may be too little too late. The U.S. has fallen far behind Russia's Arctic capabilities. The U.S. only operates one deep-water port in the Arctic, has merely two outdated icebreakers, and boasts only six Arctic military bases, all of which are "contingency bases" meant to be staging grounds for expeditions into the Arctic, and are in need of repair. The U.S. Navy does not have any icebreakers.
America and NATO are awakening to the threats of climate change and the implications of Russian dominance in the Arctic. America is playing catch-up in a region where it has little experience and capabilities, notes Politico. Arctic experts warn that the U.S. is both poorly resourced and unprepared to deal with the increasing climate threat that will require new kinds of technology, training, and infrastructure. 
However, the U.S. is beginning to revitalize its Arctic footprint. Canada is also investing in new infrastructure, while Denmark and Norway are increasing Arctic surveillance. 
In 2022, the U.S. government issued a National Strategy for the Arctic Region. It also opened a consulate in Nuuk, Greenland, and appointed an ambassador-at-large for the Arctic region, and a deputy assistant Secretary of Defense for Arctic and Global Resilience. Recent initiatives include: 
The Coast Guard has established the Polar Security Cutter (PSC) program to first acquire three new heavy-polar icebreakers, followed by three new medium-polar icebreakers. 
The U.S. Department of Defense is installing a long-range radar system intended to link satellites and other ground-based radars to "be able to address hypersonic missiles in future configurations." The system is set to be completed this year, but Russia has already begun deploying hypersonic missiles on naval ships (see WILTW January 27, 2022). 
A deep-water port is on-track to be built in Nome, Alaska, while the Navy is aiming to reopen its former base in Adak, Alaska. 
The U.S. Air Force has transferred dozens of F-35 fighter jets to Alaska, and is investing $4 billion to upgrade the Thule air base in Greenland. 
*  *  *  *  *
Several index components, including Lockheed Martin (LMT), L3 Harris (LHX), Northrop Grumman (NOC), Raytheon (RTX), and AeroVironment (AVAV), offer products designed for Arctic deployment, including next-generation satellite-communication systems, Arctic Patrol Ships, specialized drones, infrared-geosynchronous satellites, and missile-defense systems. Elbit Systems Ltd. (ESLT IT, 57900 ILs, see WILTW reports), a leader in military drones, also offers Arctic-capable UAVs.
European and Nordic-defense companies poised to benefit include:
Saab AB (SAABB SS, 425.20 SEK) - a leading Swedish aerospace and defense company that is uniquely positioned to benefit from Sweden's expected admission into NATO and the country's target for defense expenditure of 2% of GDP by 2026. In addition, Saab offers leading Arctic defense solutions, including Barracuda Camouflage with multispectral properties that protect across the entire electromagnetic spectrum. Saab also produces battlefield communication and coordination systems, and the Gripen E series combat aircraft, which is designed to fly and be serviced in austere locations like the Arctic.
BAE Systems (BA/ LN, 8.374 GBP - 13D Defense Index component, see WILTW reports) - is the largest European-defense contractor. BAE offers multiple Arctic specialized vehicles that can traverse a variety of terrain, including snow, ice, rocks, mud, and swamp. Recently, BAE was awarded two large contracts for Arctic-capable vehicles for the U.S. Army and Sweden, Germany, and the U.K. 
Rheinmetall AG (RHM GR, 220.20 Euro, see WILTW reports)- is a leading Germany-based maker of weapons, munitions, propulsion systems, and armored, tracked and wheeled vehicles. RHM's Lynx vehicle offers a specialized modular concept, allowing it to be reconfigured for different missions in a matter of hours, while maintaining excellent off-road and Arctic mobility.
Hensoldt AG (HAG GR, 25.05 Euro) - is a Germany-based leader in sensor- and radar-surveillance technologies. HAG has delivered air and sea Naval radars to the Norwegian Coast Guard for Arctic patrol vessels and has initiated a program to protect polar bears through a radar-warning system in the Arctic.
Leonardo SPA (LDO IM, 8.684 Euro) - is an Italian aerospace-, defense-, and security-sector leader that is expanding its Arctic capabilities, and also owns a 25.1% stake in Hensoldt. Leonardo was recently awarded a 690-million-euro contract to upgrade the Canadian Cormorant SAR helicopter for Arctic missions, and a $50 million contract from Sweden to provide 4,600 thermal-weapon sights.
This article is reproduced with kind permission from 13D Research & Strategy, a top-down, thematic investment research firm. It was founded by Chairman, Kiril Sokoloff, in 1983. At its core, 13D helps its clients detect change within markets before others. 13D's clients have material interests in capital markets and use 13D to form a differentiated opinion on where major investment opportunities and risks lie. If you would like to learn more about how to become a 13D client, please register your interest here.