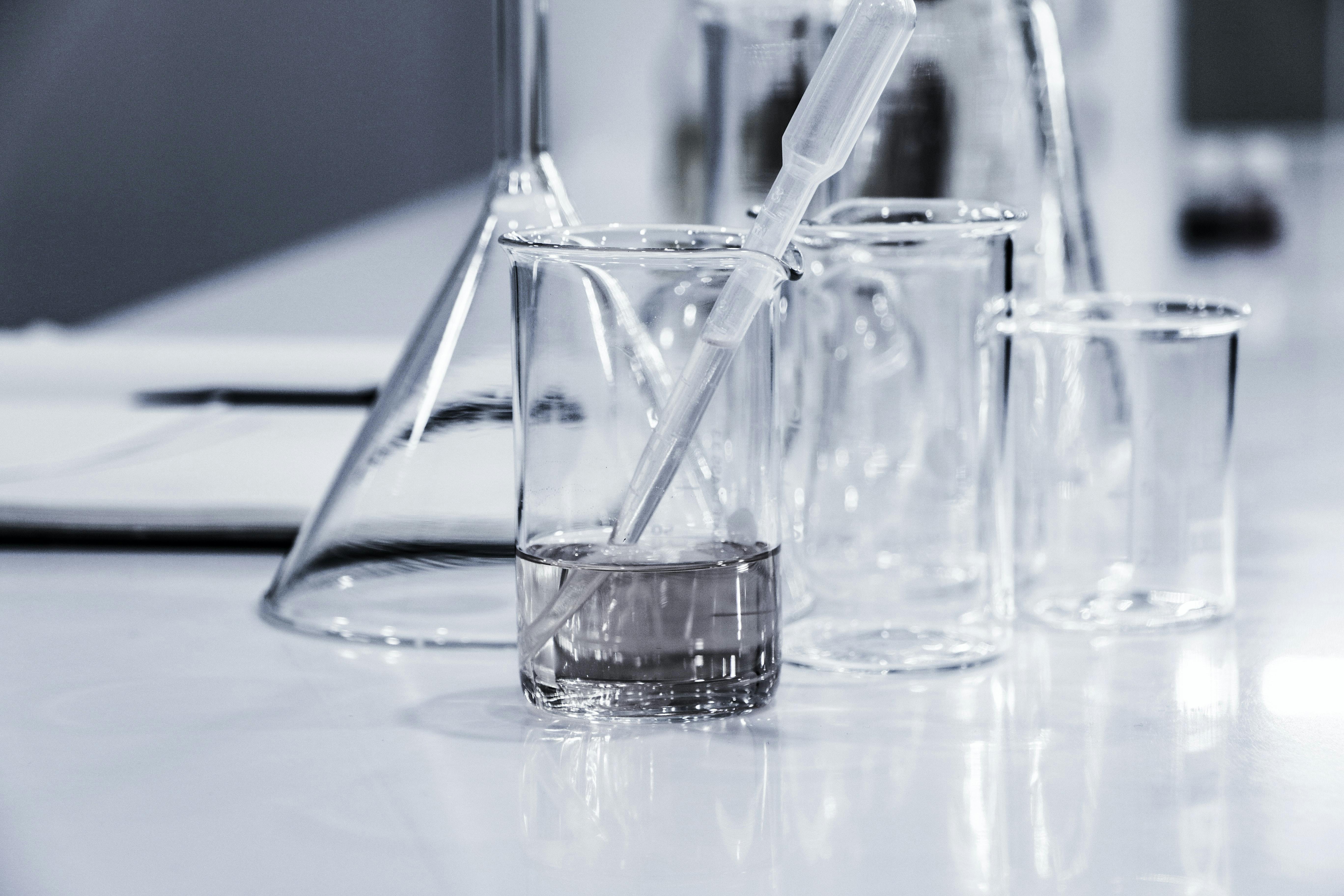 ---
Novel innovation in Alzheimer's blood tests for early detection and promising drug trials for treatments mark an inflection point in regulating the disease. What are the implications?
Alzheimer's detection and treatment is improving rapidly, and FDA regulation is fast-tracking breakthrough drugs. Diagnostics and treatment for the disease is a multi-billion dollar market opportunity. But which biotechnology companies are going to win? Nurole's Partners 13D offer a detailed answers in this article about Alzheimer's medical innovation and the companies that are driving it.
Alzheimer's is the most common form of dementia, impacting tens of millions of people worldwide (see reports). The World Health Organization predicts that dementia cases worldwide will rise from the current 55 million to 139 million by 2050. Alzheimer's cases have increased by 145% over the last two decades while the prevalence of diseases such as cancer, heart disease, and stroke are declining. Alzheimer's and other dementias are expected to cost the U.S. $321 billion this year, potentially increasing 3x to $1 trillion by 2050. 
Alzheimer's begins up to 30 years before symptom onset. Forty million Americans presently have Alzheimer's pathology brewing in their brains, which puts them at high risk for this disease in 20 years, notes Dr. Rudolph Tanzi, director of genetics and aging research at Mass General Hospital and co-director of the McCance Center for Brain Health. However, medical science still lacks diagnostic tests to check for brain-health-absent dysfunction. 
A revolutionary blood test for Alzheimer's could be on the horizon. Most of the current Alzheimer's diagnostic tests are invasive (i.e., spinal taps), costly, and generally not covered by insurance (i.e., Positron Emission Tomography scans). Ninety-four percent of doctors believe that blood tests hold the most promise as a non-invasive and cost-effective method for diagnosing Alzheimer's. 
Recently, renowned neuroscientist Nancy Ip, and her research team from Hong Kong University of Science and Technology, developed a test that uses a single drop of blood to determine if a person has Alzheimer's disease, with an accuracy rate of over 96%. Ip believes that access to mainland Chinese data on 10 million Alzheimer's patients is a big boost for research on the chronic disease. The diagnostic test was developed in collaboration with University College London. The test examines 19 proteins associated with Alzheimer's and could become available to the public by next year. 
China's access to the world's largest pool of genomic data is a strong competitive advantage for development of diagnostics and treatments (see Kiril Sokoloff's interview with Charles Li). BGI, the domestic leader, has completed at least 150,000 whole-genome sequences, equating to over 15% of the global share. China's leadership in developing commercial applications in AI will utilize this information to accelerate medical research and innovate novel solutions not just for Alzheimer's but for other chronic diseases as well (see WILTW June 10, 2021).
The U.S. is also making progress. PrecivityAD, a blood test developed by St. Louis-based C2N Diagnostics, aims to determine the presence or absence of amyloid plaques in the brain. The test demonstrated 81% accuracy in predicting the level of amyloids in the brain and can now be ordered by physicians in 49 states.
Additionally, a research team at Ruhr-Universität Bochum identified signs of Alzheimer's disease in the blood up to 17 years before the first clinical symptoms appeared using an immuno-infrared sensor.
Alzheimer's diagnostics and treatment is a multi-billion-dollar market opportunity. By identifying the disease at stage zero or one, treatment outcomes have a higher probability of success. U.S. federal funding for Alzheimer's research has increased 7x during the last decade to over $3.4 billion annually. Private funding has also been increasing. For instance, the Alzheimer's Association is funding 920 projects in 45 countries for a total investment of $300 million. In addition to diagnostics, significant progress, as reflected in initial drug trials to slow the progression of the disease, provide hope that a new era may be at hand for treating Alzheimer's. 
Consider the following:
Wearable sensors and AI-driven diagnostics could prove superior to other emerging forms of Alzheimer's screenings, including invasive tests. For instance, Mount Sinai researchers used an AI network to examine all structural and cellular tissues of the human brain. Unlike the conventional approach, which focuses on amyloid plaques, the results identified unexpected microscopic abnormalities that can predict the presence of cognitive impairment and improve treatment approaches for Alzheimer's disease.
Merck and digital-health startup Evidation are also analyzing smartphone and sensor-generated data to identify digital endpoints for Alzheimer's drug development. Researchers hope to gather sufficient data to form hypotheses about individuals who are at risk versus individuals not at risk of developing some form of dementia. 
The use of retinal exams also shows promise as a non-invasive early-detection modality. For example, Dr. Rebecca Edelmayer, Ph.D., Senior Director of Scientific Engagement at the Alzheimer's Association, notes: 
Many different retinal exams are also being evaluated as potential Alzheimer's screening methods. For example, a team of researchers has also discovered hyperspectral imaging, which captures an image at many different light wavelengths, to identify amyloid aggregates. Preliminary findings from a recent trial identified people with brain amyloid 86% of the time. 
Lumipulse, the first early detection for Alzheimer's, was recently approved by the Federal Drug Administration (FDA). The Lumipulse test is designated as a breakthrough device and is now available at clinical laboratories nationwide. Lumipulse is considered minimally invasive, using spinal fluid to detect Alzheimer's and eliminates the need for conventional Positron Emission Tomography (PET) scans that are time-consuming and expensive. The same-day test, developed by Fujirebio Diagnostics, was highly accurate in a clinical trial compared with PET scan results. In patients with positive results, Lumipulse detected amyloid plaques with 97% accuracy compared to PET scan results. 
Multiple Alzheimer's drug treatments are being fast-tracked by the FDA. In the U.S., there are over 143 drugs in the pipeline across 173 clinical trials. Three late-stage clinical trial therapeutics to treat Alzheimer's are: (1) lecanemab from Eisai and Biogen; (2) Roche Holdings Genentech's gantenerumab; and (3) donanemab from Eli Lilly. All three candidates are monoclonal antibodies that target the reduction of amyloid plaques in the brain. 
Lecanemab is now the first medicine to stunt the advancement of Alzheimer's disease in a large, definitive study. Although a portion of individuals in the study experienced brain inflammation, and may have contributed to one death,  Lecanemab slowed the rate of cognitive decline in patients by 27% compared to placebo during a phase 3 clinical trial.  A single death is unlikely to prevent regulatory approval, but it may reduce the number of people eligible for the drug.  An approval decision from the FDA is expected in early January 2023.
Genentech's gantenerumab targets treatment of patients dealing with earlier stages of Alzheimer's. Genentech is currently waiting for results from phase 3 GRADUATE trials, which are due by year-end.
The FDA recently agreed to an expedited review of Eli Lilly's experimental Alzheimer's disease medicine donanemab. Data on the drug suggested a cognitive and functional benefit to treatment, which Lilly seeks to confirm with its larger, ongoing Phase 3 study. The trial targeting amyloid antibodies is expected to announce results by Q2 2023.
Additionally, Anavex's blarcamesine hydrochloride is a leading candidate, with Phase 3 study results expected by the end of this year. The oral pill is aimed at altering signaling function in the brain to provide neuroprotective and antiapoptotic (anti-cell death) effects.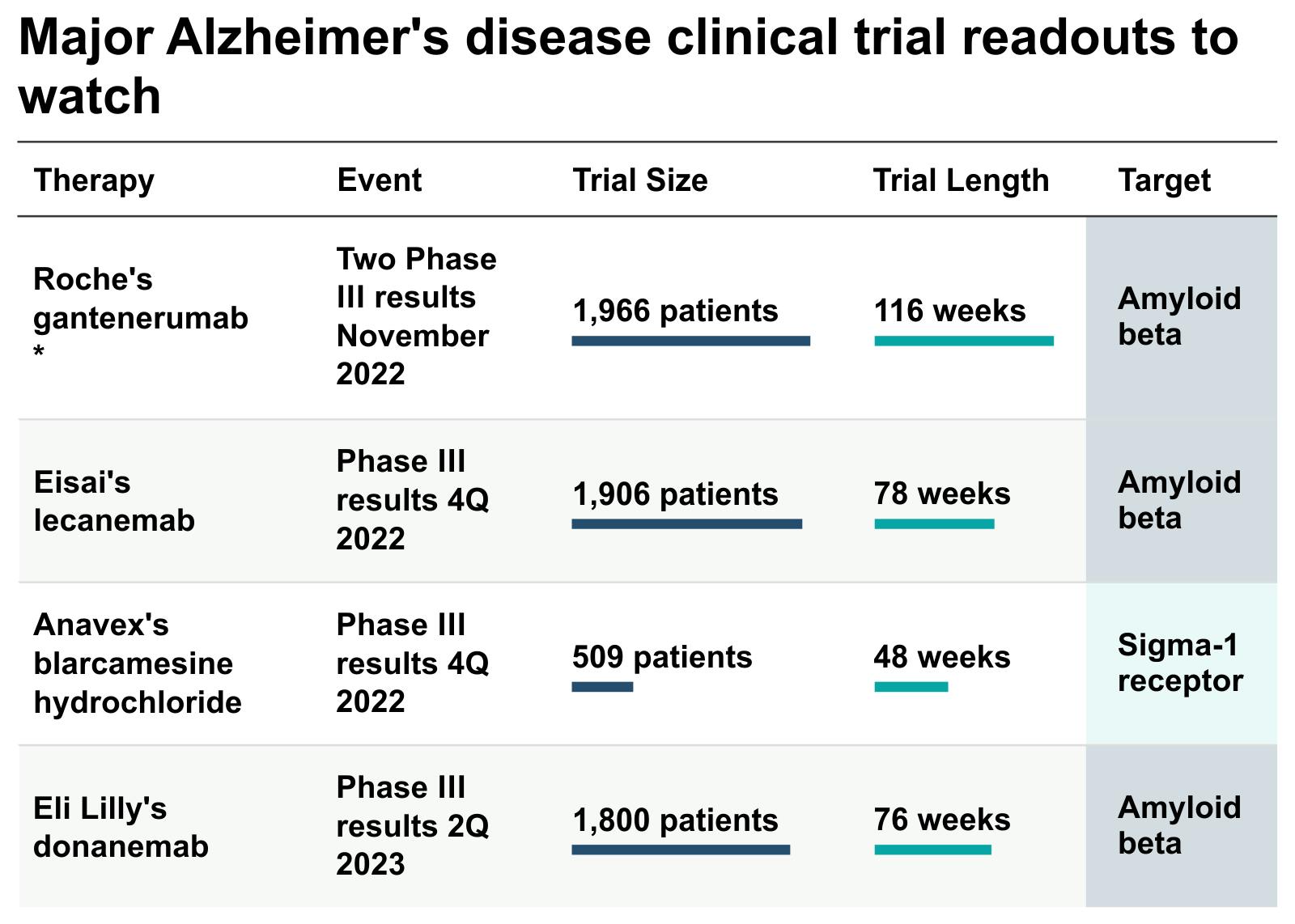 (Source: GlobalData via Clinical Trial Arena)
Merck is collaborating with Cerevance by investing over $1 billion to identify new drug biomarker targets for Alzheimer's treatment. Other early-stage biotechnology companies on our watchlist that are developing Alzheimer's drugs include:
Prothena (PRTA) has received fast-track designation from the FDA to develop PRZ012, a next-generation Alzheimer's treatment. Prothena's chief medical officer, Dr. Hideki Garren said that PRX012 "has been shown to have 11 times higher binding affinity than the approved treatment, aducanumab, in side-by-side experiments." 
Cassava Sciences (SAVA) recently concluded Phase 2 studies on its simufilam drug, which showed a 10% improvement from its baseline cognition test. Two Phase 3 studies on simufilam are targeted for completion in October 2023 and June 2024.
Axsome Therapeutics, Inc. (AXSM) has been granted an FDA Breakthrough Therapy designation for AXS-05 in the treatment of major depressive disorder and the treatment of Alzheimer's disease agitation. 
Annovis Bio (ANVS), recently concluded a Phase 2 study on its Alzheimer's drug ANVS401, which showed significant cognitive improvements in participants. ANVS401 reduces the level of tau and amyloid in the brain, which reduces the development of tangles and plaques. 
This article is reproduced with kind permission from 13D Research & Strategy, a top-down, thematic investment research firm. It was founded by Chairman, Kiril Sokoloff, in 1983. At its core, 13D helps its clients detect change within markets before others. 13D's clients have material interests in capital markets and use 13D to form a differentiated opinion on where major investment opportunities and risks lie. If you would like to learn more about how to become a 13D client, please register your interest here.