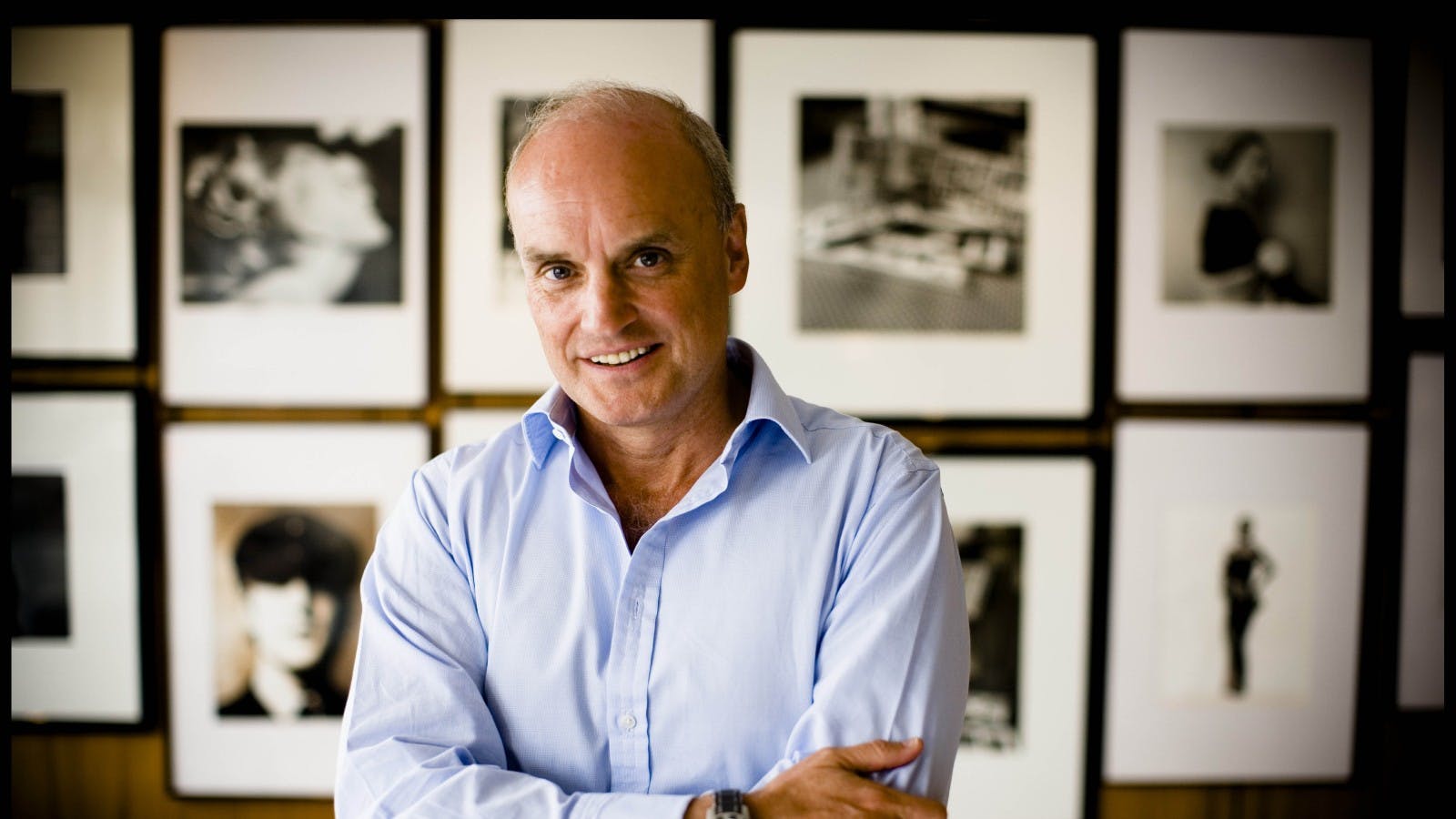 ---
How to sit on a third sector board | Nick Coleridge, Chair of the V&A
Susan Boster, CEO of Boster Group, talks with Nick Coleridge about adapting during the pandemic and the importance of building relationships as board chair.
Nick Coleridge is the Chairman of the Victoria and Albert Museum, the Prince of Wales' Campaign for Wool, and the Gilbert Trust for the Arts. He is also an ambassador for the Landmark Trust and a patron of the Elephant Family, a charity protecting Asian wildlife and its habitat.
He was the President of Condé Nast International and Chairman of Condé Nast Britain until 2019, having worked across the company since 1989. 
Coleridge is also a prolific novelist and author of his recent memoir The Glossy Years: Magazines, Museums and Selective Memoirs.
Why did you choose to join the board of a cultural organisation?
One of my primary motivations was to see how a different kind of board worked. Condé Nast is a private company owned by the Newhouse family, so you really only have one shareholder to satisfy: the owner. You can come up with an idea for something – some important expansion that you want to do, for example - explain it to the owners, and after 45 minutes (or even less) they'll say, "Oh, that sounds great! Let's do it. Let's start a business in Mumbai!" And then you do it.
In a public board, on the other hand, there are many, many levels of scrutiny. There are audit committees that scrutinise the decisions that you take and the results of those decisions. I was not used to that. And indeed, the board at the Victoria and Albert (V&A) Museum is immensely different. I've had to learn many new skills in the seven years that I've been on that board. 
My other reason was purely selfish. I very, very much like the Victoria and Albert Museum, partly for nostalgic reasons. When I was 20, I wrote my dissertation in the National Art library at the V&A. I had a lovely desk, looking out onto the majestic courtyard. Since then, it has always had a place in my heart. 
The V&A also has three collections that are very close to my interests. I'm very interested in Indian art, contemporary photography and fashion. These three national collections in England are all owned by the V&A. 
To whom did you turn to when you decided to commit to being chair of the V&A? 
I didn't really ask anyone's advice, to be absolutely honest. I don't think I even mentioned it to my wife until I had applied, because she has a very reasonable default position to try and get me to do fewer things. I did have a very full-on job at Condé Nast at that time, but I actually find that there are as many hours in the day as you want there to be. 
How would you describe the time commitments of a board chair? 
It always says in the application that you should allow four full days a month. This is a tremendously, utterly untrue piece of guidance. You could do it for four days, if you are one of those chairs who literally sits in a chair and works their way through an agenda, but I think that if you want to make any impact - and if you want to enjoy it fully - then you have to engage much more fully with the responsibility. 
As a chair of a national museum, in particular, you have to put quite a lot of effort into aiding the fundraising and development work. You can also only really get the best out of the board itself if you if you feel you know them quite well, making the time to keep in touch through lunches and breakfasts and other personal interactions.
One of the things that's quite challenging in the world of Zoom is that we're getting less of that informal connection before a board meeting. At the V&A, we always have a buffet lunch for an hour before the meeting, with a mix of board members and senior executives. Now of course, when everyone is just a square on a computer, it's a little bit more difficult. You have to do a certain amount of ringing people behind the scenes. It's trickier to make the same connections, but we're managing.
You were at the helm of Condé Nast during a global shift in the publishing world to digital. Now you chair an organisation facing a similar disruption, exacerbated by the COVID-19 pandemic. What best practices do you feel board members should be sharing across sectors right now?
The museum has had to shut its doors three times due to the pandemic. We've spent a lot of time liaising with the Department for Digital, Culture, Media & Sport (DCMS), with the Treasury, and with the other museum chairs and directors. [Regarding the latter,] we used to be very competitive, but now we've become very collegiate. We have Zoom calls every 10 days, and together discuss how we can get through this major financial challenge. 
Back in the 1980s, the museums in Britain were entirely paid for by the government. Now, all the national museums are raising an average of 55% percent [of revenue] themselves. With the museums closed, all our means of making money were gone. 
So, what have we been doing? We've been trying to stem our costs and make sure that we run operations as tightly as possible. Secondly, more emphasis has been put on digital (which was happening anyway). It's our plan to digitise every single last object in the museum and in the reserve collection. We've also been building up the museum's presence on social media and doing a lot of virtual broadcasts, where the curators have been talking to groups of members.
From your experience with Condé Nast to your current role at the V&A, how do you approach board composition?
At Condé Nast, we didn't have any external board members. Everyone who was on our board was on the payroll. Board members were running particularly important departments and were very well informed. There was an executive board with five of us who were the most senior executives in the international arena, and then each country had a local board.
I also chair the Prince of Wales' Campaign for Wool, which is a very different kettle of fish. We have a Council composed of shepherds, big wool merchants, graders, tailors, retailers and various others. What they all have in common - except for me - is that they are in some way paid by the wool industry. Very often, they're competitors, so as the Chair for that organisation I'm the catalyst, working with all of these different groups and keeping them all going in the same direction.
The V&A is also different, because everybody is chosen by a combination of independent assessors, the chair of the board, and representatives from DCMS. There are various nuances to getting the board composition correct, with more involvement coming from the cabinet office and ministers these days. 
There are 16 trustees on the V&A board. You need five or six who understand finance and the audit committee; for our collections committees and the museum's research function, we need people who have cultural expertise and a background in museums and art; and we also need people who can help the development department. Many trustees (with the best will in the world) can't help with fundraising, either because they don't know anybody who is sufficiently rich to give meaningful donations, or they are too afraid to ask. We have some people on the board who don't mind asking, and they are tremendously useful in that respect. 
No matter their role, people on the board need to have two attributes, as far as I'm concerned: First, they have to be workers. I am very suspicious of people who collect trusteeships and end up on 12 boards. You have to read all the board papers tremendously carefully before you come to a meeting. We're very lucky at the V&A, because everyone does read them very carefully. That's not always the case on other boards. 
Second, I like people who actually come along to the museum, enjoy the exhibitions on the weekends, and are there to talk to people as they walk around. The board is not just a scrutiny committee, asking senior executives to explain themselves. You can't just come to the three-hour board meeting, eat the biscuits, have a cup of coffee, ask a few questions, and then at the end of it go home and not think about the museum for a week. I like people who are very much… in it [sic].
What are the biggest challenges you faced stepping into the role of chair from trustee? What learnings can you share?
On the board at the V&A, we have a role called the senior non-executive director, who does two things that are very helpful to me. First, after every board meeting, he sends me an email of every single thing that I could have done better. He is also the person who critiques the Chair's performance every two years by talking informally to the board and soliciting feedback from them. 
The senior non-exec has become even more valuable to me in this virtual world. As chair, I try to encourage people to always say what they think, but there are some people who don't speak up. Your eye needs to be constantly looking around, assessing who wishes to speak and making sure that everybody does. On Zoom, I can't see my 16 board members and 10 senior executives all at once. The senior non-exec will occasionally send me a text that says a particular person hasn't spoken yet, or that I might want to ask that other person to share her view. This feedback is terribly helpful, because - however alert one is - you can sometimes miss the mark when there is such a big cast of people. 
The role of the senior non-exec is also useful if a trustee has a thought that they didn't want to ring me about for whatever reason. It's easier for them to have a word with the senior non-exec first. 
I think that the relationship between the chair and the director is another absolutely crucial dynamic that is different at each organisation. The chair is not meant to be making all the decisions, but can be a useful sounding board - especially if you understand the organisation as well as I think you should. The director of the V&A and I have an informal/formal breakfast once a month. We each arrive with a list of about eight points, pose questions and share our perspectives on different issues raised. It works well, because we're incredibly open with each other. It's a very fine balance that you have to get right.
Susan Boster is the Founder and CEO of Boster Group Ltd. an independent marketing consultancy that creates innovative brand partnerships for global corporations and cultural institutions to achieve business and social impact goals. Current and recent clients include BNP Paribas, Montblanc, Insight Investment, Moët Hennessy, AMEX, Gap Inc., Credit Suisse, Bacardi, EY and Disney. Boster Group shapes partnerships on the basis of shared values, untapped assets and complementary capabilities. Distinctly, Boster Group measures return on investment for its clients and is focused on the impact of the creative campaigns it develops. Previously a CMO for News International, Susan is currently on the boards of English National Ballet, Donmar Warehouse, The Representation Project, and serves on the Enterprise Committee at The Design Museum.