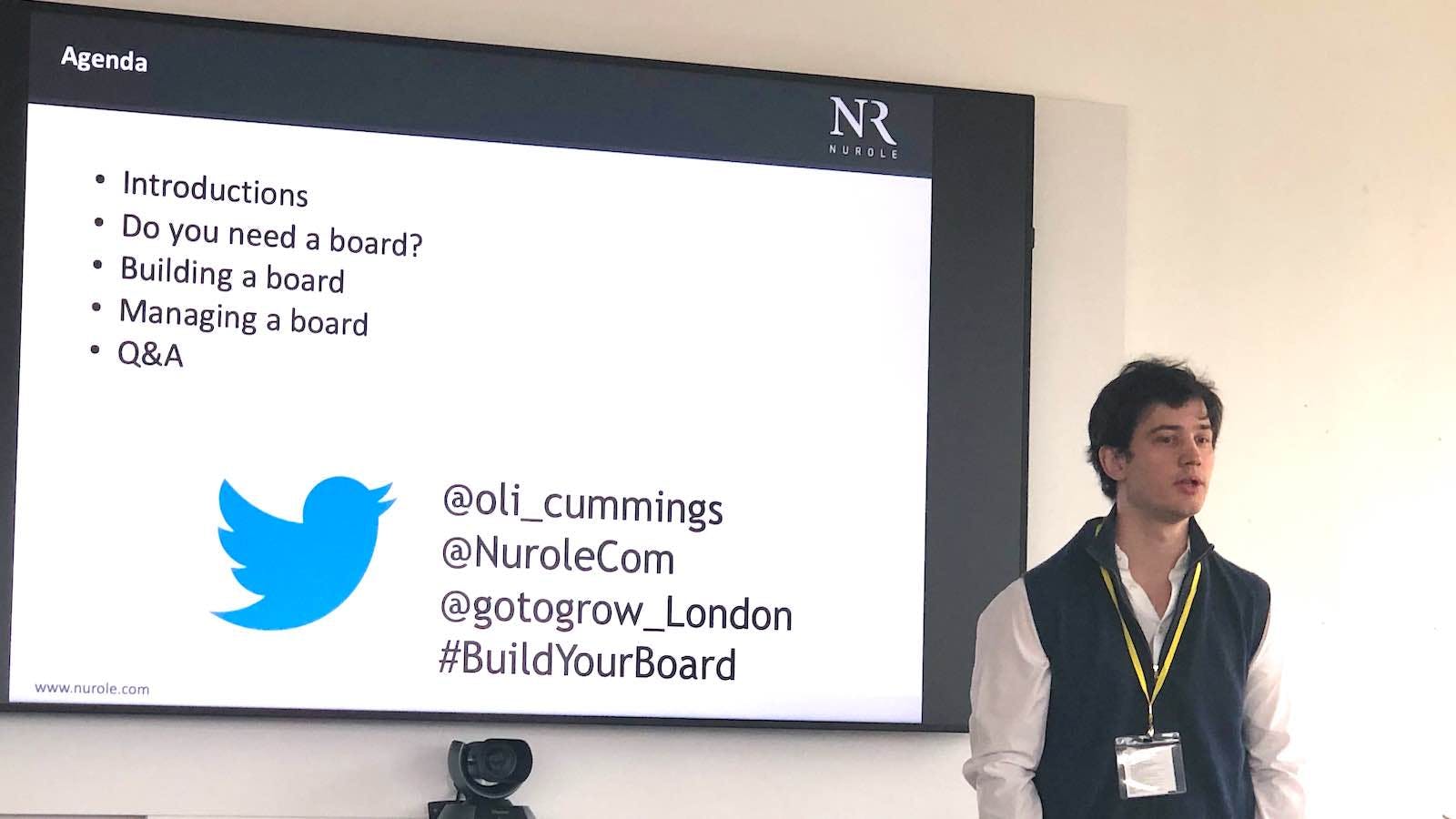 ---
Nurole teams with London & Partners to help Startups build better boards
Nurole continues developing its partnership with London's international trade, investment and promotion agency, London & Partners, with a free training session for successful Startups looking to build their first boards. Here are the key takeaways:
Startups often harness the support of London's international trade, investment and promotion agency London & Partners when they are ready to scale-up. This is also often the juncture when they are preparing to move from having one or two founding executives to either taking on a short-term Advisory Board or a permanent team of Non Executive Directors (NEDs).
Nurole's COO, Oliver Cummings, was thrilled to be given the opportunity to speak to a room of London & Partners' beneficiaries about when and how to build an effective, efficient and economic board for their businesses.
Cummings began by explaining the key triggers that lead Startups to create a board. He said that these tend to be centred around seeking help with international expansion; a need for a more strategic vision and leadership; support with scaling-up; a desire for specific sector expertise; to prepare to exit the business; or to raise funds.
Most of the attendants who were at board development stage, recognised some or all of these as factors that led them to acknowledge that they would benefit from board support. Assistance allocating capital; balancing being at the cutting edge of technology with a limited budget; and support with moving from 40 employees to hundreds spread across different continents, were amongst the challenges mentioned by those in the room.
Building a better board
Cummings went on to describe the benefit of creating a skills matrix that highlights the skills that you would like your new board members to bring to the table. And, he emphasised the importance of bringing together a board made up of the right team of people and the value in investing time in finding a brilliant and cognitively diverse group of individuals that, crucially, work brilliantly together.
"A board lives or dies by the relationship between the Chair and the CEO," he said. "The Executive runs the company. The Board makes sure the Executive is well run. The Chair runs the Board and the CEO runs the business. All of those involved need to work well together."
This was followed by a discussion on why some Startups prefer to start out with a temporary Advisory Board before moving to the adoption of a permanent Non-Executive Board and why, although daily compensation is often higher for Advisory Board Members than NEDs, beginning with an Advisory Board can pay off in the long term.
Why people want to join boards
The session ended with a reminder that compensation isn't always front of mind for many people looking to join boards. It's often a passion for your particular sector, a real belief in your business idea or a desire by someone who has been there and done that to give back.
Looking to hire a NED or an Advisory board member? Get in touch with a Nurole consultant today.